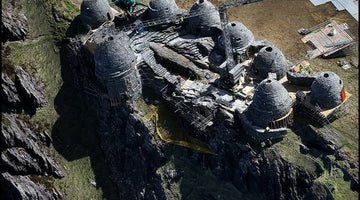 Star Wars in Dingle
One of the major stories so far this year for Dingle, and Ireland as a whole, is that of the blockbuster film series...
Kerry Versus the World
Cath Finntrágha, The battle of Ventry You probably aren't aware, but one of the greatest battles in history took place not far from Dingle...
The first Irish American
Next Columbus day, remember who really found America. Columbus Day has just gone by in the United States, marking the Italian explorer's famous journey across the Atlantic. Most Scandinavians will wag their fingers and remind us that the Viking Leif Erickson got there four hundred years earlier. The Norse Vikings were driven out of Ireland in 1014 at the battle of Clontarf, by High King Brian Ború, and haven't been back since. So we can forgive them for not knowing America was discovered eight hundred before Columbus.